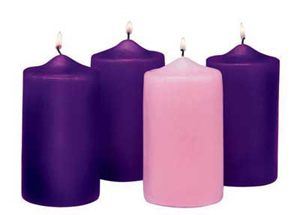 Church families add significance to the Christmas season by lighting Advent candles. Each Sunday in Advent a new candle is lit to direct thoughts toward the birth of the King. The Christ Candle, lit on Christmas Day, symbolizes Christ's arrival.


Advent candles are a tradition in many churches and we are pleased to offer you a wide assortment of sizes for your church.


Traditionally, Advent candles have used a combination of purple, pink and white colors, but in recent years, blue has been offered as an alternative to purple.


Listed below are sub-categories to help make your shopping easier. You can choose from 51% Beeswax, Stearic, Oil burning, or smaller taper sizes for wreaths and single candle holders.


To see more detail about any item, simply click the description and you will be taken to the individual product page.
Advent 51% Beeswax Sets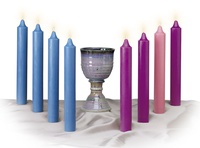 EMK-1158
List Price:

$52.60

Your Price:

$41.95

(

20%

savings)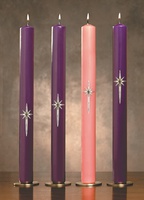 WB-34291
List Price:

$69.95

Your Price:

$62.95

(

10%

savings)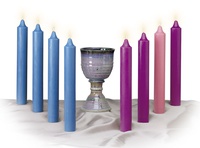 EMK-1154
List Price:

$82.95

Your Price:

$64.30

(

22%

savings)
Tube Candles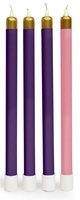 RW-12ADV
List Price:

$301.00

Your Price:

$270.90

(

10%

savings)