ChurchPartner offices and warehouse will be closed on Monday, May 27 to honor our fallen heroes this Memorial Day. All orders will be processed the next day, Tuesday, May 28.
Diversified Woodcrafts Mobile Storage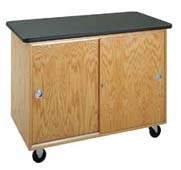 These storage cabinets allow for easy mobility of demonstration and materials. Most ship within 5 days and are made of hardwood oak and oak veneers. All doors have locks and give varying amounts of space and storage for all types of materials used in science classrooms.