ChurchPartner is still operating at regular capacity and shipping your orders promptly. Please be safe...wash your hands...and keep your distance from each other.
Woerner 200 Series Sanctuary Collection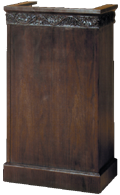 Woerner offers simple elegance with a line of grape trim in the 200 Series Sanctuary Collection. Each piece of this collection is constructed of selected flat-cut red oak veneer plywood and solid hardwood red oak lumber. You have 16 standard stains to choose from. Then the product is finished with Enduracote III, a specially formulated catalyzed lacquer that resists water and other stains.
The collection includes a Pulpit, Lectern and Communion Table.
200 Series Communion Table