ChurchPartner offices and warehouse will be closed on Monday, May 27 to honor our fallen heroes this Memorial Day. All orders will be processed the next day, Tuesday, May 28.
Woerner 620 Series Sanctuary Collection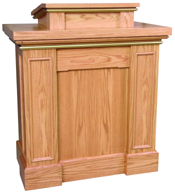 Woerner presents you with a traditional Gothic Design with the 620 Series Sanctuary Collection, making these pieces the perfect addition to any sanctuary or chapel. Each piece is constructed of selected flat-cut red oak veneer plywood and solid hardwood red oak lumber. You have 16 standard stains to choose from. Then the product is finished with Enduracote III, a specially formulated catalyzed lacquer that resists water and other stains.
The collection includes a Pulpit and two Altars.