Woerner 8000 Series Sanctuary Collection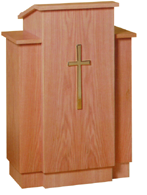 Woerner offers simplicity with the 8000 Series Sanctuary Collection, showing you that plain can be elegant with this No Frills Design. Optional Brass Cross and Symbols are available to spruce up many of the pieces. Each piece is constructed of selected flat-cut red oak veneer plywood and solid hardwood red oak lumber. You have 16 standard stains to choose from. Then the product is finished with Enduracote III, a specially formulated catalyzed lacquer that resists water and other stains.
The collection includes a Pulpit, Lectern, Altars, Prie Dieu Kneelers, Celebrant Chairs & Stool, Flower Stands and an Offering Table.
8000 Series Prie Dieu Kneelers
8000 Series Celebrant Chair
8000 Series Celebrant Chair
8000 Series Offering Table
8000 Series Flower Stands