Woerner Unfinished Sanctuary Collection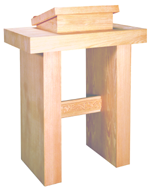 Woerner gives you the opportunity to add the perfect finishing touch with their Unfinished Sanctuary Collection. Each piece of this Classic Mission Style Furniture is constructed of selected flat-cut red oak veneer plywood and solid hardwood red oak lumber. You use your own stain to match your existing wood.
The collection includes Pulpits, Lecterns, Communion Tables, Altars, Baptismal Fonts, Prie Dieu Kneelers, Collection Boxes, Flower Stands, Pamplet Racks, Hymn Book Holders and Bible Stands.