NOTE: Our credit card processor is currently off-line. If you wish to purchase with a credit card, please call.
National Public Seating Mobile Tables with Seats
If you are looking for one of the largest selections of mobile tables for cafeteria, fellowship hall or any large meeting area you've come to the right place! National Public Seating offers Bench, Convertible Bench, Fold-Up, Fixed, and Stool style products. In addition, you have a huge variety of finishes available, many in quick ship options. Finally, you have different core materials and edge materials available in most styles. You cannot help but find the perfect product for you use.
Mobile Tables with Convertible Benches - 6'L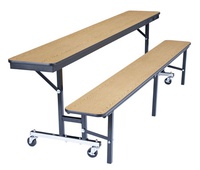 82547
List Price:

$930.31

Your Price:

$569.82

(39% savings)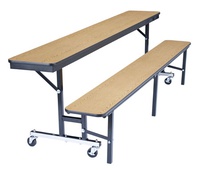 82550
List Price:

$978.08

Your Price:

$599.08

(39% savings)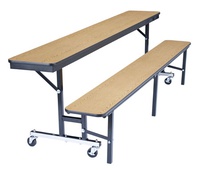 82548
List Price:

$1,097.67

Your Price:

$672.32

(39% savings)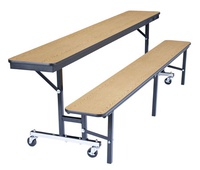 82552
List Price:

$956.35

Your Price:

$585.77

(39% savings)
Mobile Tables with Convertible Benches - 7'L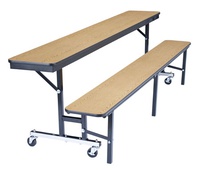 82553
List Price:

$979.12

Your Price:

$599.71

(39% savings)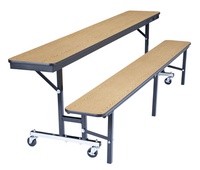 82557
List Price:

$1,030.25

Your Price:

$631.03

(39% savings)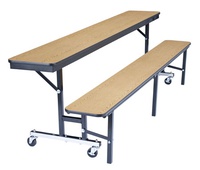 82559
List Price:

$1,015.02

Your Price:

$621.70

(39% savings)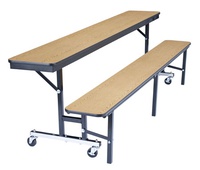 82558
List Price:

$1,170.42

Your Price:

$716.88

(39% savings)
Mobile Tables with Convertible Benches - 8'L
82560
List Price:

$1,016.08

Your Price:

$622.35

(39% savings)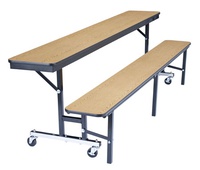 82561
List Price:

$1,375.81

Your Price:

$842.69

(39% savings)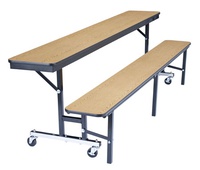 82563
List Price:

$1,223.67

Your Price:

$749.50

(39% savings)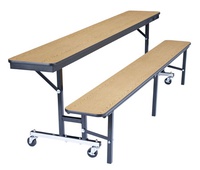 82565
List Price:

$1,168.24

Your Price:

$715.55

(39% savings)
Mobile Table with Fixed Benches - 8'L
Mobile Table with Fixed Benches - 10'L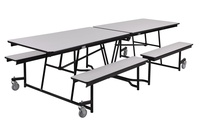 11821
List Price:

$2,143.06

Your Price:

$1,312.62

(39% savings)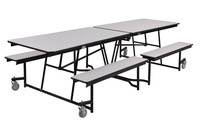 82649
List Price:

$2,084.35

Your Price:

$1,276.67

(39% savings)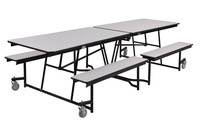 82572
List Price:

$2,293.10

Your Price:

$1,404.52

(39% savings)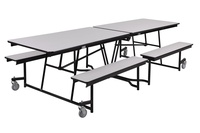 82650
List Price:

$2,457.10

Your Price:

$1,504.97

(39% savings)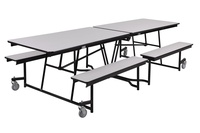 82651
List Price:

$2,334.36

Your Price:

$1,429.79

(39% savings)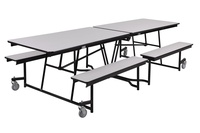 82571
List Price:

$2,316.93

Your Price:

$1,419.12

(39% savings)
Mobile Table with Fixed Benches - 12'L
Mobile Table with Fixed Benches - Elliptical
Mobile Table with Fixed Benches - 60" Round
Mobile Tables with Stools - 8'L with 8 seats
Mobile Tables with Stools - 10'L with 12 seats
Mobile Tables with Stools - 12'L with 12 seats
Mobile Tables with Stools - 12'L with 16 seats
Mobile Tables with Stools - 10' Elliptical with 12 seats
Mobile Tables with Stools - 60" Round with 8 seats