Cross Explorations - Fall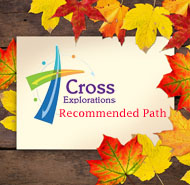 A large group/small group program for elementary students
Cross Explorations is a large group/small group Sunday School program for grades 1–6 that takes kids through the Bible in three years. This mixed-style Bible learning experience—similar to a site-rotation program—is perfect for teaching kids and their parents the same Bible story in age-appropriate ways so that the family can grow in faith together.
Cross Explorations provides more material than a typical Sunday School can use in a one-hour time slot. The flexible format lets you pick and choose what works best for your Sunday School volunteers and kids.
Cross Explorations can also be used as a midweek or family program.