Tired of squirming and inattentive kids? Studies have shown that students who have the option to stand in class during the school day have better and longer attention, are less disruptive AND require fewer bathroom breaks! Our full line of Stand2Learn student desks meet any classroom need from one or two desks to full installations! All desks and stools adjust to meet the exact height needs of students. Choose from single or double desks which allow for easy configurations for group work too!
---
Free Shipping now on any Stand2Learn Desk or Stool!
Anywhere in the lower 48 States! Always!
Stand2Learn Original Standing Student Desks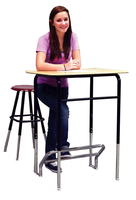 28083
List Price:

$325.00

Your Price:

$227.95

(30% savings)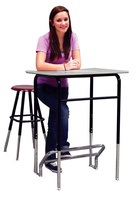 28089
List Price:

$325.00

Your Price:

$227.95

(30% savings)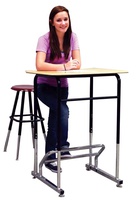 28082
List Price:

$425.00

Your Price:

$297.95

(30% savings)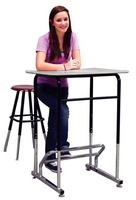 28088
List Price:

$425.00

Your Price:

$297.95

(30% savings)
Stand2Learn Yze Single Student Desks
Stand2Learn Yze Double Student Desks