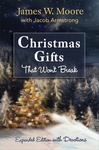 Christmas Gifts That Won't Break
Go on an Advent journey with beloved teacher and storyteller James W. Moore, exploring the spirit of Christmas. As you light the candles of your Advent wreath, reflect on the unbreakable gifts that God has given us: hope, love, joy, and peace. And remember God's greatest gift, who comes to us as a baby and leads us through all the days of our lives.
Key Features:
Includes Scripture and excerpts and drawing from popular author James W. Moore's experience as a pastor, speaker, and church leader.
Challenges people to rethink the gifts they ask for and give during the Advent and Christmas seasons.
Provides commentary and questions for reflection and discussion.