Our offices and warehouse will be closed on Thursday and Friday, November 25-26 for our staff to spend time with family and friends. We wish you all the best Thanksgiving as we give thanks for our multitude of blessings.

Friends of God: A Discipleship Experience
If a personal relationship with God is enough to catalyze Jesus-followers to change the world...
...why do so many remain on the sidelines of their faith? Why aren't more Christians investing in the lives of others, attending church, giving sacrificially, and serving regularly?
Maybe it's because more than 75 percent of Americans have a distorted view of God's character, and it's undermining their ability to follow and rely upon him—to be the disciples Jesus calls them to be.
Fortunately, there's an effective way to change this view. Jesus modeled it through a process that's so familiar it's often dismissed.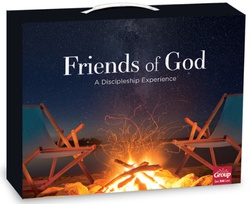 121000-030-7958
Regular Price:

$129.99

Your Price:

$103.99

(20% savings)