Our office and warehouse will be closed on Monday, May 25 so our staff can be with family and friends on this Memorial Day. We will resume normal operations on Tuesday, May 26. Have a safe and enjoyable weekend.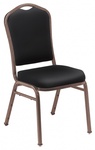 Stacking Chairs
ChurchPartner is pleased to offer a wide selection of well made and attractive stacking chairs for use anywhere in the church, school or meeting hall environment! Whether upholstered, non-upholstered, or high density stacking, these chairs add space when not in use and beauty and comfort when in use. Check out our selection!
---
Save on all 9200 Series Upholstered Stacking Chairs from NPS!
Take an additional 5% off any of our finest upholstered stacking chairs from National Public Seating now through December!
FREE SHIPPING anywhere in the lower 48 states!!