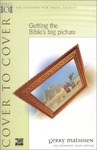 Bible 101 Bible Study
IVP and Willow Creek Resources present the Bible 101 series--designed for those who want to know how to study God's Word, understand it clearly and apply it to their lives in a way that brings personal transformation.
Series editor Bill Donahue and a team of expert Bible study writers introduce all the topics and skills that a beginning student of the Bible needs in order to dig deeper: interpretation, devotion, the "big picture," the times and places of Scripture, study methods, great themes and foundations--how the Bible was put together.
Though designed especially for groups, Bible 101 study guides can also profitably be used for individual study. Each study guide includes five sessions that overview essential information and teach helpful study skills. A concluding, sixth session brings newly gained information and skills together in a way that relates them to daily life.