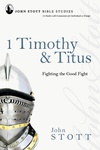 John Stott Bible Study
For five decades John Stott has been a tireless and faithful Bible expositor and teacher. Millions have benefited from his careful study and eloquent writings. His commentaries stock the shelves of pastors and preachers around the globe. Hailed as the elder statesman of evangelical Christianity, Stott is one of the world's most beloved and respected Bible teachers alive today.
Now with this Bible study series you can explore Scripture side by side with John Stott, enhancing your own in-depth study with his insights gained from his years of immersion in God's Word. Included in each is his insightful exposition of key biblical passages, as well as inductive study questions for individual or group use.
The John Stott Bible Study series will serve as an excellent introduction both to the work of John Stott as well as the riches of Scripture