ChurchPartner is still operating at regular capacity and shipping your orders promptly. Please be safe...wash your hands...and keep your distance from each other.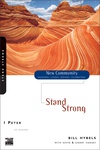 New Community Bible Study
New Community Series -- a high-impact tool for experiencing the transforming power of God's Word. This cutting-edge series lets you explore life-changing topics from a biblical perspective in community with others in your small group. Challenging questions encourage you to reflect on Scripture and its impact on your life, both as an individual and as part of a community of Christ followers.