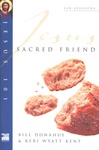 Jesus 101 Bible Study
Here is a series of Bible studies that will engage your mind and your heart.
Each study session in the eight guides that make up the Jesus 101 Bible Study Series offers you a fresh perspective on who Jesus is, how he related to the people around him and how he interacts with you today. You'll discover how Jesus fulfills your deepest needs and desires. And you'll fall in love with him--for the first time or all over again.
This series is designed by small group expert Bill Donahue. Each session includes quotes and questions to get you thinking, an inductive Bible study, an opportunity to connect your story with Jesus' story, and ideas for taking the "next step" in your journey with Jesus. A companion book, In the Company of Jesus enhances your experience of Jesus by describing how men and women in Scripture encountered him as friend, teacher, revealer and forgiver.