A centerpiece of any worship environment is the communion table. It represents an invitation to partake of the Lord's Supper and is meant as a central gathering place in the sanctuary. Therefore, much consideration needs to be taken to make this piece just right. Look no further than our outstanding selection of sanctuary communion tables specifically designed to enhance this most important sacrament!
---
Free Shipping on Imperial, Woerner and Robert Smith Sanctuary Furniture!!
Our most popular sanctuary furniture now ships FREE anywhere in the lower 48 states!
Imperial Open Communion Tables
Woerner Open Communion Tables
Woerner Open Communion Tables - Unfinished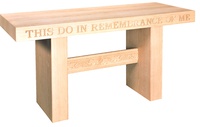 60223
Regular Price:

$1,720.00

Your Price:

$1,332.95

(23% savings)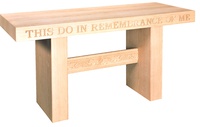 60026
Regular Price:

$2,028.75

Your Price:

$1,571.95

(23% savings)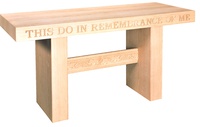 60222
Regular Price:

$1,437.50

Your Price:

$1,113.95

(23% savings)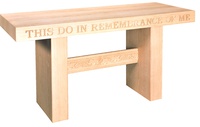 60025
Regular Price:

$1,747.50

Your Price:

$1,353.95

(23% savings)
Woerner All Acrylic Communion Tables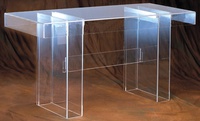 60005
Regular Price:

$3,756.25

Your Price:

$2,909.95

(23% savings)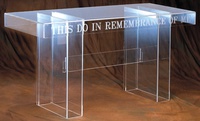 60006
Regular Price:

$4,071.25

Your Price:

$3,152.95

(23% savings)
Woerner Acrylic Communion Tables with Wood Top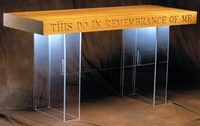 62037
Regular Price:

$3,756.25

Your Price:

$2,909.95

(23% savings)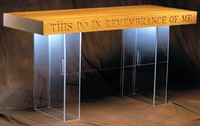 62052
Regular Price:

$4,071.25

Your Price:

$3,152.95

(23% savings)
Woerner Acrylic Communion Tables with Wood Base & Top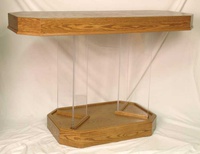 60642
Regular Price:

$3,298.75

Your Price:

$2,554.95

(23% savings)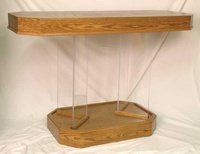 60643
Regular Price:

$3,607.50

Your Price:

$2,793.95

(23% savings)
Imperial Closed Communion Tables
Woerner Closed Communion Tables
Robert Smith Open Communion Tables