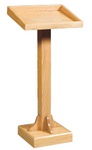 Church Lecterns & Podiums
Check out our excellent selection of quality podiums and lecterns. From inexpensive to fancy, we've got a lectern for every part of your church, school or community hall!
---
Sanctuary Furniture Sale in Progress!
Save on ALL Woerner, Imperial, Executive Wood and Robert Smith Sanctuary Furniture! Don't wait to have furniture in place for Easter events and services.
Sale on ONLY through February 16th!