NOTE: Our website is currently experiencing some technical difficulties and images are not being shown. We are working on this and should have it corrected shortly.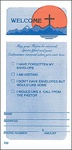 Pew Offering Envelopes
An offering envelope is a reminder for people to give. They are an effective "call to action" tool. Churches who use offering envelopes, on a whole, have a broader and more consistent giving base. Though digital giving options are extremely important, people still use envelopes readily available to give to their local church.