Please note, Due to COVID, we are temporarily not processing returns/exchanges in our warehouse of: Apparel, Gloves, Paraments, Linens, etc.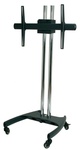 Plasma and LCD Flat Screen Stands, Carts, Wall Mounts & Accessories
Secure your flat screen for easy viewing anywhere in your facility with our selection of well designed and functional mobile carts. Or, choose a flat screen mount that secures your screen permanently for classroom, sanctuary or seminar room viewing.
Choose from a wide variety of styles and uses.