Our offices and warehouse will be closed on November 24-25 so our staff can celebrate Thanksgiving with their families and friends. Our offices and warehouse will re-open on Monday, November 28.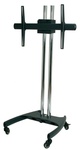 Plasma and LCD Flat Screen Stands, Carts, Wall Mounts & Accessories
Secure your flat screen for easy viewing anywhere in your facility with our selection of well designed and functional mobile carts. Or, choose a flat screen mount that secures your screen permanently for classroom, sanctuary or seminar room viewing.
Choose from a wide variety of styles and uses.