ChurchPartner offices and warehouse will be closed on Monday, May 27 to honor our fallen heroes this Memorial Day. All orders will be processed the next day, Tuesday, May 28.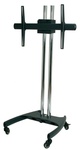 Plasma and LCD Flat Screen Stands, Carts, Wall Mounts & Accessories
Secure your flat screen for easy viewing anywhere in your facility with our selection of well designed and functional mobile carts. Or, choose a flat screen mount that secures your screen permanently for classroom, sanctuary or seminar room viewing.
Choose from a wide variety of styles and uses.