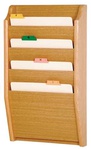 Wall Files
Oak wall files are an attractive way to keep your important files organized. Mount outside your office or on your door to provide a location for others to return files when you're not there. Keep files off your desk with this excellent organizing tool, too! These versatile units also function well as parishioner mail boxes!
---
Ready for Guests this Fall?
All Wooden Mallet Literature Displays are on Sale now through September!