ChurchPartner Office Depot Purchasing Program

For the past 20 years ChurchPartner has teamed up with Office Depot to bring you a buying program that has been proven to save you money every day. Up to 70% off regular prices!
Benefits of participating in the ChurchPartner Purchasing Program:

FREE FREIGHT —Office Depot will deliver to your church or office FREE of charge any order over $50. No need to leave the office and drive to the store...and save your back on those cases of paper!

LOWER PRICES — Save 50–80% off the retail price on most items. 99% of all items will have a lower price than Office Depot's discounted price. Also, check out our "Core Pricing Book" for discounts that will save you additional money. Just imagine what the savings can do for helping to fund your ministry programs!



NET 30 BILLING OR CREDIT CARD — Office Depot will set you up with Net 30 billing terms or you could choose to use your credit card. Whatever is easier for you. It's your choice!



IN-STORE PURCHASING CARD — By applying for this Office Depot Store Purchasing Card, you can go to any Office Depot in the country and receive your special ChurchPartner prices. Also, if the store is running a local special, you will ALWAYS get the lower of the two prices. You are always the winner, heads or tails!

Request your copy of our ChurchPartner Purchasing Program Core Pricer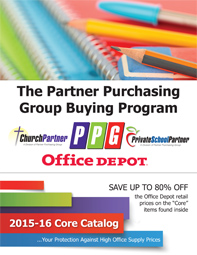 This special pricer, only available for ChurchPartner customers, is packed with extremely low prices on the core items you purchase every day. From paper to writing material to adhesives and paper clips to supplies for the classroom, this pricer is loaded with great prices!

OUR NEWEST BONUS!
New to our program is our special FLEX 15 program! This bonus allows you to choose up to 15 additional non-core items that you use all the time (think toners, ink cartridges, special folders, etc.) and receive a customized, low price on them to save you even more money. Click here to download and print more information on this exclusive program! This is a perfect example of effective stewardship in action!
Like what you see? Click here to request an account set up and more information about our Office Depot Preferred Pricing Program today!