Emergency Response Handbook for Small Group Leaders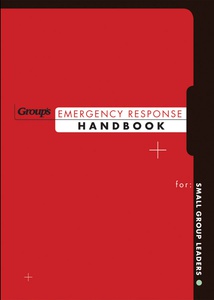 Item Number: 076-443-1814
Manufacturer SKU: 978-0-7644-3181-4
This quick-response handbook helps small group members face challenging times and successfully cope together. You'll discover several approaches to handle each critical issue--from the death of a child to divorce, addiction, terminal illness and more. It's all backed by Scripture help, case studies, and counseling advice. Plus, you'll discover great ways for other members to support their friends in need. Along the way, small group members grow in their friendships with each other and with God.
Regular Price:

$14.99

Your Price:

$11.99

(20% savings)
You want to help -- a church member faces a terminal illness, good friends of yours just lost their child, a member of your group is struggling with an addiction, the death of a child, divorce, addiction, terminal illness--but you feel unsure how to help.

Prepare yourself with practical ways to love others through their greatest challenges. People face difficult, painful stuff in life--and they shouldn't struggle alone. But what do you say? How do you help? What if you make things worse?

This rapid-response handbook gives you and your small group the confidence to share God's love and comfort with hurting friends.

You will be prepared to respond with 12 chapters focused on twelve emergencies that people you care for may encounter.

Each chapter includes:
Real Life Narrative -Learn from someone who has been there
Care and Counseling Tips -Practical ideas to personally reach out in love
Tips for your entire small group -Great ways your group can offer support
What to say and What not to say -Positive encouragement to help the hurting, and advice on what not to say
You'll also find Scripture connections, guidelines for referring your friend to a professional counselor, additional resources, and ways your group can stand by your friend in need.
Publisher: Group Publishing
ISBN: 9780764431814
Author: Roxanne Wieman
Pages: 160
Format: Paperback
Weight: .4 lbs
Publication Date: July 2006
Size: 7" H x 5" W

If your church does it, they've probably got it. It's been said that tool companies don't sell drills; they sell holes. The same goes for Group. They don't just sell books, curriculum, training, Bibles, software, etc. They're in the business of making you even better at what you do in ministry. They want you to feel joy and fulfillment as you connect people with Jesus. That said, Group does offer a wide range of resources and services for just about every area of church ministry: children's ministry, youth ministry, adult small groups, women's ministry, pastoral ministry, and more.
Church Partner Contact Information