Woerner Acrylic Communion Table - Acrylic Top with Lettering - 3362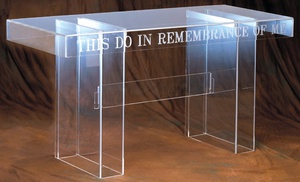 Item Number: 60006
Manufacturer SKU: 3362
See your way clear to invest in high quality acrylic sanctuary furniture! The Woerner 3362 Communion Table adds contemporary elegance to any sanctuary. It includes the lettering "THIS DO IN REMEMBRANCE OF ME". Each piece is custom made using the finest acrylic. Companion pieces for the Communion Table include: Pulpits, Altars, Baptismal Font, Offering Tables, Bible Stand, Collection Box, Lecterns and Flower Stands.
Regular Price:

$4,071.25

Your Price:

$3,152.95

(23% savings)
The Woerner 3362 Communion Table is manufactured using the clearest acrylic and features:
3/8" thick acrylic with a connecting stringer for added stability and strength.
Each part fits into grooves for superior construction.
Arcrylic edges are hand-polished.
The front edge is etched with the Scripture verse "THIS DO IN REMEMBRANCE OF ME".
Also available without the Scripture verse (item 11717)
Available with a full wood top with verse (item 11720).
This beautiful piece exemplifies Woerner Industries commitment to quality, which has been developed with over ninety years of service. Woerner is dedicated to producing furniture designed to enhance the worship service and to endure for years to come.

Woerner Industries manufactures high quality beautiful wood and acrylic furnishings for the worship sanctuary. They offer a wide variety of fabrics and finishes as well as unfinished pieces and an unparalleled selection of styles.
Weight: 100 lbs.
Width: 60"
Height: 31"
Length: 24"
Church Partner Contact Information