Curved Style Acrylic Lectern - 471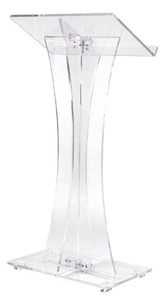 Item Number: 60103
Manufacturer SKU: 471
For a cool and interesting look the Acrylic Lectern Series is a must. It is a contemporary fun look for a progressive organization.
Regular Price:

$995.81

Your Price:

$597.95

(40% savings)
For a contemporary interior, Oklahoma Sound acrylic lecterns fit right in! The 471 model has soft curves creating a relaxed worship and learning experience. At 47 lbs. the 471 is our lightest acrylic lectern. Made of 1/2" and 3/8" acrylic plexiglass for a cool and interesting look ~ this podium is a must for a fun, modern decor. Attractive and unique looking for any Church or modern buisness
Easy to assemble
15"D x 24"W x 46"H
1/2" and 3/8" acrylic

Oklahoma Sound Corp. manufactures the latest in State of the Art Audio voice amplification technology. Most of their products are integrated into high quality cabinetry in a choice of laminates and veneer. Full multimedia capability, including power outlet selections from 20 - 50 watts, phantom power, switchable Dynamic/Condenser mic inputs, tape and CD, play and record capability - to name just a few are built in. Look to OKS for a complete line of products designed for educational, commercial and business use.
Weight: 47 lbs.
Width: 15"
Height: 46"
Length: 24"
Church Partner Contact Information