Woerner Communion Table - Finished - Grape Trim - 1018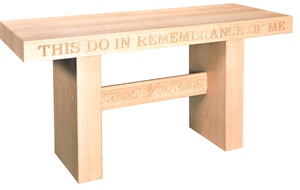 Item Number: 60226
Manufacturer SKU: 1018
This Woerner communion table is finished in one of 16 attractive stain options - one to match your sanctuary! This communion table is crafted using red oak and red oak veneer. The companion piece for the communion table include a lecterns, altars, prie dieu kneelers, baptismal fonts, pulpits, flower stands, candle sticks, table top lecterns, deposit box, pamphlet rack, hymn book holders and a bible stand.
Regular Price:

$1,921.25

Your Price:

$1,488.95

(23% savings)
The Woerner 1018 Communion Table with Grapevine Trim features sturdy construction and clean styling.
60"W x 24"D x 31"H.
Grapevine trim on connecting stringer.
Constructed of selected flat-cut red oak veneer plywood or solid hardwood red oak lumber.
16 beautiful wood stains to choose from.
Finished with Enduracote III, a specially formulated catalyzed lacquer resistant to water and other stains.
Available with engraved Scripture verse "THIS DO IN REMEMBRANCE OF ME" (item 1201)
Available with plain trim on the stringer (item 1198).
Also available unfinished (item 1196).
This beautiful piece exemplifies Woerner Industries commitment to quality, which has been developed with over ninety years of service. Woerner is dedicated to producing furniture designed to enhance the worship service and to endure for years to come.
Weight: 100 lbs.
Width: 60"
Height: 31"
Length: 24"

Woerner Industries manufactures high quality beautiful wood and acrylic furnishings for the worship sanctuary. They offer a wide variety of fabrics and finishes as well as unfinished pieces and an unparalleled selection of styles.
Church Partner Contact Information