Woerner Offertory Table - With Shelf & Door - 5050SD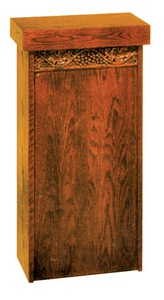 Item Number: 60354
Manufacturer SKU: 5050SD
Woerner's 5000 series of sanctuary furniture features clean lines, solid surfaces and just a dash of grapevine trim. The custom made offering table has a matching pulpit, altar, lecterns, kneeler and pulpit chairs available to outfit the sanctuary.
Regular Price:

$1,449.00

Your Price:

$1,134.00

(22% savings)
The Woerner 5050 Offertory Table features grapevine trim and unfussy wood work that allow the beauty of the grain to show.
18"W x 16"D x 36"H with an interior shelf and door.
Constructed of selected flat-cut red oak veneer plywood or solid hardwood red oak lumber.
16 beautiful wood stains to choose from.
Finished with Enduracote III, a specially formulated catalyzed lacquer resistant to water and other stains.
Also available without the shelf and door (item 1255)
This beautiful piece exemplifies Woerner Industries commitment to quality, which has been developed with over ninety years of service. Woerner is dedicated to producing furniture designed to enhance the worship service and to endure for years to come.
Weight: 50 lbs.
Width: 18"
Height: 36"
Length: 16"

Woerner Industries, Inc. has manufactured a full line of church furniture for over 90 years. Our products are sold through church goods dealers nationwide. Offerings include wood altars and communion tables, pulpits and lecterns, congregational wood chairs made from solid oak, various styles of celebrant and sanctuary seating, prie dieu's/kneelers of many styles and sizes, baptismal fonts, credence and offertory tables, and various other items and accessories from bible stands to bookracks to personal kneelers. We also offer a line of acrylic furniture including pulpits, lecterns and tables as well as crucifixes with solid walnut crosses.
Church Partner Contact Information