31" Prize Wheel Storage and Travel Case - 63017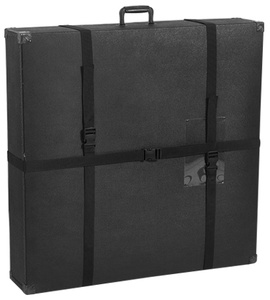 Item Number: 63017

Pack, ship and carry your 31" Prize Wheel to events in this sturdy, padded travel case!
Regular Price:

$301.50

Your Price:

$221.95

(26% savings)
The Prize Wheel Travel Case is a useful tool for anyone on the go! Recessed foam inserts protect the wheel in transit and storage while comfortable carrying straps make moving the wheel a breeze.
The 31" Prize Wheel Travel Case Features:
A carrying handle
Removable 2" adjustable shoulder straps with a sliding rubber grip
Two 1.5" snap closures to prevent the case from opening during transit
Protective foam inserts
Please note:
This case is intended for 31" Prize Wheels.
This case is not designed for Super or Mini Prize Wheels.
This case is only available in black.

The easy-to-assemble Prize Wheels are great tools for any business. Applications for both product lines are virtually unlimited! The Prize Wheel is manufactured by Thermopro using high-tech thermoforming equipment. ThermoPro, Inc. is a privately held company based in metropolitan Atlanta. Founded in 1976, the company was transformed from a manufacturer of storage containers to a leading supplier of display products through catalog sales.
Weight: 19 lbs (Not including wheel)
Width: 45"
Height: 35"
Length: 9" Deep
Church Partner Contact Information