The Choir Member's Companion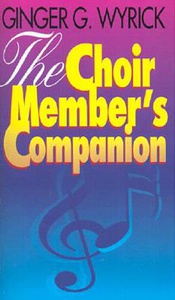 Item Number: 068-725-6402
Manufacturer SKU: 9780687256402
The Choir Member's Companion is designed for use by individual choir members in a local church adult choir. The book is intended for purchase by the choir director to be given to choir members as gifts or as a way for choir members to better understand musical symbols, terminology, and symbols used in choral music.
Regular Price:

$4.99

Your Price:

$3.99

(20% savings)
CONTENTS:
1. Introduction to Choir Membership
2. Basic Music Reading Skills
3. Musical Road Map
4. Basic Vocal Techniques
5. Sight-reading New Music
6. How to Mark Your Music
7. Preparation for Worship
8. Preparation for Other Performances
9. Glossary of Musical Terms and Symbols

Abingdon Press is an imprint of The United Methodist Publishing House, in operation since 1789. In the early 1920s, Abingdon began publishing a wide array of high-caliber academic, professional, inspirational, and life-affirming religious literature to enrich church communities across the globe. Now beginning its ninth decade, Abingdon Press has a commitment to providing the best, most effective religious publications available.
Publisher: Abingdon Press
Author: Ginger Wyrick
Pages: 48
Format: Paperback
Publication Date: 1998
Church Partner Contact Information