The Jesus I Never Knew 6-Session DVD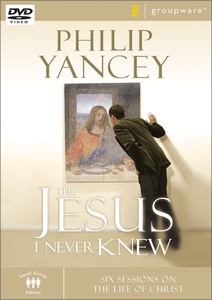 Item Number: 031-027-5282
Manufacturer SKU: 9780310275282
Regular Price:

$26.99

Your Price:

$21.59

(20% savings)
This six-session video resource for small groups can help participants experience the Jesus they may never have known. The drama and immediacy of motion pictures are used to compare well-and little-known film portraits of Jesus with the Jesus of the Bible.
Since its release in 1995, The Jesus I Never Knew has sold over 300,000 copies internationally and garnered church-wide critical acclaim. Philip Yancey's award-winning book on the teachings, person, and life of Jesus Christ emerged from a groundbreaking group Bible study led by the author.

Now your group can share in the same exciting dynamics and discoveries as Yancey's original group. In this revised small group DVD, Yancey guides you and your group members through six all-new sessions. Tapping the drama and immediacy of motion pictures, The Jesus I Never Knew will engage hearts, minds, emotions, and senses. Prepare for life-changing encounters with the Jesus of the Gospels … and discoveries as refreshing, unpredictable, and exciting as the person you're about to meet.

Zondervan is an international Christian communications company with a heart for helping people find and follow Jesus Christ by inspiring them with relevant biblical and spiritual resources. They do this through their bestselling, award-winning, and life-changing products. Zondervan leads the way in Bible and book publishing, and they continue to expand their resource offering. They are working to become an even greater contributor to the international Christian marketplace. Today they offer a wide variety of resources for all ages. Their products include Bibles, books, audio resources, ebooks, videos, CD-ROMs, digital downloads, and inspirational gifts.
Publisher: Zondervan
Author: Philip Yancey
Format: DVD
Publication Date: May 2008
Church Partner Contact Information