Philippians: Run the Race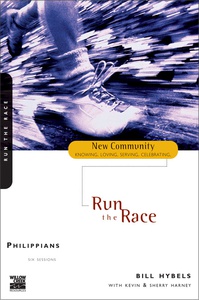 Item Number: 031-023-3143
Manufacturer SKU: 9780310233145
Regular Price:

$9.99

Your Price:

$8.49

(15% savings)
It's a marathon. God offers strength for the race, cold water to quench our thirst, and fresh legs when we grow weary. We never run alone. He is always right beside us cheering us on or ahead of us leading the way. Do you need energy and refreshment for the race of life? In Philippians, you will find all you need to run with strength and confidence. If you desire joy beyond measure, perseverance, a servant's heart, hope for the future, a peace beyond understanding, and lasting contentment, look no further than Philippians.
Life as a follower of Christ is not a fifty-yard dash.

Zondervan is an international Christian communications company with a heart for helping people find and follow Jesus Christ by inspiring them with relevant biblical and spiritual resources. They do this through their bestselling, award-winning, and life-changing products. Zondervan leads the way in Bible and book publishing, and they continue to expand their resource offering. They are working to become an even greater contributor to the international Christian marketplace. Today they offer a wide variety of resources for all ages. Their products include Bibles, books, audio resources, ebooks, videos, CD-ROMs, digital downloads, and inspirational gifts.
Publisher: Zondervan
Author: Bill Hybels
Pages: 96
Format: Softcover
Publication Date: 1999
Church Partner Contact Information