Parables: Imagine Life God's Way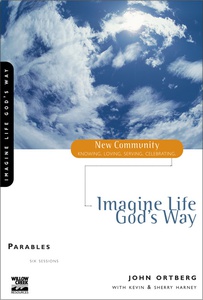 Item Number: 031-022-8816
Manufacturer SKU: 9780310228813
Regular Price:

$9.99

Your Price:

$8.49

(15% savings)
Six-session small group studies to build true community within the church and among the world.
Parables: Jesus, the wisest man who ever lived, had much to say about God, the human heart, the future, life, anger, love, and everything that mattered. Digging into the treasure trove of the wisdom and truth hidden in his parables will stretch minds, feed souls, pierce hearts, and shape his followers into true disciples.

Zondervan is an international Christian communications company with a heart for helping people find and follow Jesus Christ by inspiring them with relevant biblical and spiritual resources. They do this through their bestselling, award-winning, and life-changing products. Zondervan leads the way in Bible and book publishing, and they continue to expand their resource offering. They are working to become an even greater contributor to the international Christian marketplace. Today they offer a wide variety of resources for all ages. Their products include Bibles, books, audio resources, ebooks, videos, CD-ROMs, digital downloads, and inspirational gifts.
Publisher: Zondervan
Author: John Ortberg
Pages: 96
Format: Softcover
Publication Date: 2002
Church Partner Contact Information