Acts: Build Community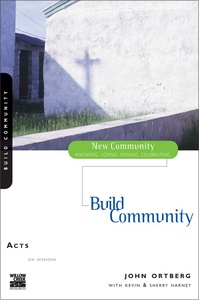 Item Number: 031-022-7704
Manufacturer SKU: 9780310227700
Regular Price:

$9.99

Your Price:

$8.49

(15% savings)
This single volume in the high-impact series for experiencing the transforming power of God's Word in the context of community invites you to rediscover church and its validity in today's world.
6 SESSIONS
Today, some people think of the church as a powerless institution made of ancient traditions and stuffy buildings. They're wrong! The church is the new community of God's people. It's filled with the power of the Holy Spirit. And it has as much to say to the world today as it did two thousand years ago.

In Acts, you will discover that God wants to do a fresh work among his people by the power of the Holy Spirit. You will find the pathway to authentic community. You will learn how to grow as a worshiper. And you will deepen your passion to invite others into the fellowship of Christ-followers we call the church. Sound exciting? Let's rediscover church together!

Zondervan is an international Christian communications company with a heart for helping people find and follow Jesus Christ by inspiring them with relevant biblical and spiritual resources. They do this through their bestselling, award-winning, and life-changing products. Zondervan leads the way in Bible and book publishing, and they continue to expand their resource offering. They are working to become an even greater contributor to the international Christian marketplace. Today they offer a wide variety of resources for all ages. Their products include Bibles, books, audio resources, ebooks, videos, CD-ROMs, digital downloads, and inspirational gifts.
Publisher: Zondervan
Author: John Ortberg
Pages: 96
Format: Softcover
Publication Date: 1999
Church Partner Contact Information