Romans: Find Freedom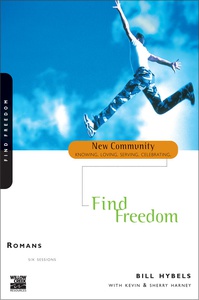 Item Number: 031-022-7658
Manufacturer SKU: 9780310227656
Regular Price:

$9.99

Your Price:

$8.49

(15% savings)
In the book of Romans, God points you to the path of freedom. You will discover an inexhaustible, heavenly power to break the chains that bind you. You'll find forgiveness for all moral failures, a new future where all things are made right, and the joy of living in community with God's people. In Romans, you will walk the road of freedom that will set you truly free!
6 SESSIONS
Satisfy the deepest longing of your heart -- God made us to run, jump, dance, and celebrate absolute freedom. Yet too often we feel bound by past failures, sin, and guilt. What will it take for the shackles to fall to the ground? Where can we find a freedom that no one can ever take away?

Zondervan is an international Christian communications company with a heart for helping people find and follow Jesus Christ by inspiring them with relevant biblical and spiritual resources. They do this through their bestselling, award-winning, and life-changing products. Zondervan leads the way in Bible and book publishing, and they continue to expand their resource offering. They are working to become an even greater contributor to the international Christian marketplace. Today they offer a wide variety of resources for all ages. Their products include Bibles, books, audio resources, ebooks, videos, CD-ROMs, digital downloads, and inspirational gifts.
Publisher: Zondervan
Author: Bill Hybels
Pages: 96
Format: Softcover
Publication Date: 1999
Church Partner Contact Information