James: Live Wisely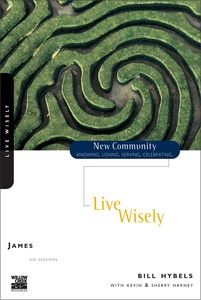 Item Number: 031-022-7674
Manufacturer SKU: 9780310227670
Regular Price:

$9.99

Your Price:

$8.49

(15% savings)
This is just one volume in a high-impact series for experiencing the transforming power of God's Word in the context of community.
6 SESSIONS
In the labyrinth of life, we need practical and clear directions for making wise, Christ-honoring decisions. Which way do we go at the crossroads -- left, right, straight, or backtrack? What instructions does God offer to guide us along the way? The book of James offers a wonderfully practical collection of wisdom. Do you need to build perseverance?

Overcome destructive desires?

Build confidence as a follower of Christ?

James gives clear guidance.

Do you need instruction on using your words for good, and growing as a person of prayer?

James has the answers. Dig into this book, and learn how to choose wise paths through life's maze.

Zondervan is an international Christian communications company with a heart for helping people find and follow Jesus Christ by inspiring them with relevant biblical and spiritual resources. They do this through their bestselling, award-winning, and life-changing products. Zondervan leads the way in Bible and book publishing, and they continue to expand their resource offering. They are working to become an even greater contributor to the international Christian marketplace. Today they offer a wide variety of resources for all ages. Their products include Bibles, books, audio resources, ebooks, videos, CD-ROMs, digital downloads, and inspirational gifts.
Publisher: Zondervan
Author: Bill Hybels
Pages: 96
Format: Softcover
Publication Date: 1999
Church Partner Contact Information