Screenflex WALLmount Portable Partitions - 23'10 L x 4'0 H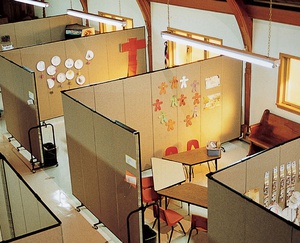 Item Number: 50067
Manufacturer SKU: WM4013
Why pay more for Screenflex WALLmount™ Partitions when you can have yours at a discount price! Screenflex WALLmount™ partitions are the economical solution for dividing off large areas. Available in 25 fabric and vinyl colors, these durable Screenflex partitions mold to any room size or configuration.
Screenflex WALLmount ™ room dividers are the economical solution for movable large area partitioning. They have 14 gauge end frames and an unlimited variety of configurations. Available in 17 fabric and 8 vinyl colors (additional cost applies).
Sound Absorbing Panels. Reducing noise is a primary motivation for purchasing a folding room divider. Screenflex dividers block up to 65% of the sound depending on the height and configuration of the divider. The units are constructed with 3/4" thick panels of a closed cell honeycomb core covered by two layers of heat sealed fiberglass insulation on each side and enclosed in a steel frame.
Tackable Panels will work like a bulletin board. You can use pins, staples and tacks. The 3/4" panels are covered with stitch-bonded 100 % polyester fabric to provide you with years of dependable, great looking, use.
Versatility. Screenflex room dividers are perfect for straight line dividing of space. Plus, you can bend or curve the divider into and "L", "V", or "U" shape, square or zigzag! You can also curve it to form a semi-circle. You can change the configuration every time you use them.
Self-Leveling Casters conform to the dips and rises in a floor's surface, enabling the divider to glide over uneven surfaces. The design of the wheels makes sure each wheel makes full contact with the floor, which results in increased stability.
Locking Corner Casters. The end frames of each Screenflex divider are supported by a set of 3" self leveling swivel casters. Each caster can swivel 360 degrees for easier positioning and set up. The ball-bearing technology allows each wheel to spin freely making it easy to roll even the largest room. Once you have the Screenflex divider in position, the pedal-activated brakes keep the divider securely in place.
Dual Interior Castors
Position Control Hinges add 3/4" to the height of each panel. When the divider is opened, the soft click of the position control hinge works automatically so that each panel is secured in a fixed position to keep the divider from shifting.
Full Length Hinges connect panels together from top to bottom. This creates superior strength and stability. The gap-free hinge leaves no open area between panels. The full length hinge allows you to configure the Screenflex wall-mounted room dividers into straight lines, 90 degree angles, zigzags, squares or semi-circles.
Storage Latch located at the base of the divider automatically engages when the room divider is fully closed. To open the divider you must release the locking lever and walk the divider open and into any position.
Six partition lengths and heights
Powder-coated painted metal panel trim
They can be used in any location except a elevator or stairwell.
Screenflex warrants its products to the original purchaser to be free from defects in workmanship and material for three years from the date of delivery!
Units are easy to erect and install
Choose initial fold direction (left or right) for your unit. This determines which side of the mounting the panels will lay against.

The mission of Screenflex is to provide quality, affordable, portable room dividers to enable you to make better use of your facilities. Screenflex room divider screens are designed and developed with a clear understanding of your budgets, your building costs and the need to make the best use of every square foot of your buildings. Screenflex was founded in 1988 by Paul, John and Richard Maas partners in an architectural firm with numerous churches, schools, corporations and restaurants as clients. Working with these clients, the partners realized that regardless of the client's size or budget, they all had one common goal; achieve the best use of their valuable floor space. To help their clients attain this goal, several lines of unique portable room dividers were designed and patented. Now, Screenflex Portable Room Dividers are now solving space and time problems in every corner of every state and across the globe.
Weight: 111 lbs.
Height: 4'
Length: 23'10"
Church Partner Contact Information