ComforTek 20" Wide Enclosed Back Stacking Chair SPECIAL ORDER
Why is there no price on the chair? Due to the unique nature of this chair, we will be happy to create a custom quote for you! Please call to request this. (800) 572-0550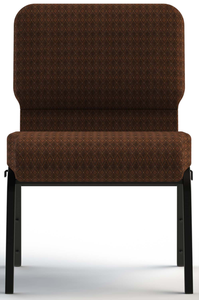 Item Number: 72250
Manufacturer SKU: SS 7711-20-BZ
Perhaps the finest ganging chair on the market today, the Summit Series enclosed-back stacking chair makes a strong statement for comfort and beauty.
Your Price: As low as

$.00
Other features include:
3 full inches dual layer high density foam cushion seat
1-1/2" foam back with firm lumbar lower back support
Waterfall seat front
Full 20" wide seat
Choice of 9 frame options
1" all-steel frame welded frame
4 steel cross members between the legs for structural strength
Ganging chair connectors are standard
T-Nut & bolt assembly to prevent stripping - no screwing into wood
Full plywood seat and back core
Choice of 13 standard 100% woven poly-olefin 16 oz fabric
25 year frame warranty
10 year foam warranty
10 year upholstery warranty - exceeds industry standards!
Seat back book pouch and card pocket may be ordered with chairs at an additional charge
Two underseat book rack options easily attach (see related items)
Click for Additional Resources
Frequently Asked Questions - Summit Series
Due to the custom nature of this chair, expect 12 - 16 weeks for shipment and delivery

ComforTek manufactures the highest quality seating solutions. With corporate headquarters in Canada, and distribution located in three regions of the United States , ComforTek is well positioned to help make any audience comfortable. Products are designed to accommodate guests in a wide variety of market applications. Whether the desire is to enhance learning (classroom settings), provide for high quality medical care (health care clinics), accommodate large groups of people (religious venues) or merely to provide for a moment's relaxation (break rooms), ComforTek's diverse products will serve well for many, many years. You will appreciate these products for their value, durability, versatility and superb feel and comfort! That's the Comfor Tek Advantage.
Weight: 22 lbs
Width: 20"
Height: 34 1/2"
Length: 24 1/4"
Church Partner Contact Information