Lifetime Almond Personal Table - 28240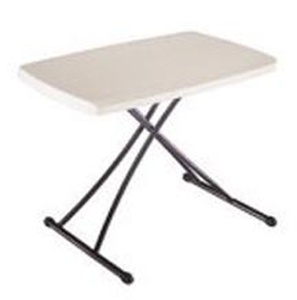 Item Number: 82170
Manufacturer SKU: 28240
The 30" Lifetime Personal Table is constructed of high-density polyethylene and designed for strength and stability. The table features four adjustable height settings from 21" to 28" for versatile use
Regular Price:

$56.99

Your Price:

$42.95

(25% savings)
This item will not be available until September 2020
The 30" Lifetime Personal Table is constructed of high-density polyethylene and designed for strength and stability. The table features four adjustable height settings from 21" to 28" for versatile use. The steel frame design folds flat for easy storage and is protected with a powder-coated, weather-resistant finish. The 30" Personal Table is built for indoor or outdoor use and is backed by a two-year warranty.
Adjustable Height Table
Designed for Strength and Stability
Adjusts to 24", 26" and 28"
Indoor/Outdoor
Stain Resistant and Easy to Clean
26"x18" High-Impact Polyethylene Top
Ideal for Home, Office, Crafts, Outdoor Activities and More!

The world's leading manufacturer of folding tables and chairs, Lifetime was founded as the maker of portable basketball systems that revolutionized the industry with patented technology. In the beginning, the founder of Lifetime Products set out to build a sturdier basketball pole for his backyard. The result was a basketball standard for the backyard. That was 1972. Today, Lifetime Products, Inc. has applied innovation and cutting-edge technology in plastics and metals to create a family of affordable lifestyle products that feature superior strength and durability. In the time since those first crucial years in Lifetime's history, the company has grown to over 1700 employees in 2.6 million square feet spread over 23 separate buildings.
Weight: 11.35 lbs
Width: 20"
Height: 21", 24", 26" or 28"
Length: 30"
Church Partner Contact Information