Psalms: Heart to Heart with God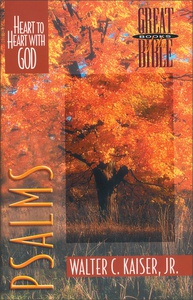 Item Number: 031-049-8716
Manufacturer SKU: 9780310498711
Regular Price:

$8.99

Your Price:

$8.09

(10% savings)
Using a short, practical format, this study provides twelve lessons to unlock the meaning and heart of the book of Psalms.
12 SESSIONS
The Psalms are the Bible's book of music-without-notes whose "lyrics" portray the greatness of God. Ranging the spectrum of human experience and emotion, the Psalms acclaim God's majesty and righteousness and reveal his everlasting love for his people. Your heart will feel the psalmists' passion -- and your prayer and worship life will deepen as Israel's sacred songbook brings you "heart to heart with God."

Zondervan is an international Christian communications company with a heart for helping people find and follow Jesus Christ by inspiring them with relevant biblical and spiritual resources. They do this through their bestselling, award-winning, and life-changing products. Zondervan leads the way in Bible and book publishing, and they continue to expand their resource offering. They are working to become an even greater contributor to the international Christian marketplace. Today they offer a wide variety of resources for all ages. Their products include Bibles, books, audio resources, ebooks, videos, CD-ROMs, digital downloads, and inspirational gifts.
Publisher: Zondervan
Author: Walter C. Kaiser, Jr.
Pages: 96
Format: Softcover
Publication Date: 1995
Church Partner Contact Information