Group's The Humongous Book of Preschool Ideas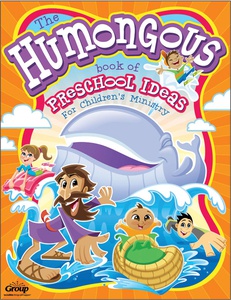 Item Number: 076-443-6017
Manufacturer SKU: 978-0-7644-3601-7
Group's The Humongous Book of Preschool Ideas for children
Regular Price:

$29.99

Your Price:

$23.99

(20% savings)
**Special Order Item - Allow 3-4 weeks for delivery
A must-have for every Children's Ministry director! The Humongous Book of Preschool Ideas is your ultimate "pick and choose" resource for teaching Bible stories to children--in ways they'll remember! Fun and easy to use! Just pick a Bible story, flip to that section of the book...and discover games, crafts, Scripture, and finger plays to create a lively lesson, or boost an existing lesson. Though it's loaded with information, The Humongous Book of Preschool Ideas is designed to be easy to use. You'll have a blast poring through pages of powerful activities that stick with kids! Includes Bible story and Scripture indexes.
Includes:
Thirty-seven fun, easy-to-use, teacher-friendly you'll have just as much fun discovering new activities as you will teaching kids!
TONS of ideas to fit your class
Exciting Bible stories that introduce kids to the amazing characters in the Bible.
Powerful Bible connections--Bible story and Scripture indexes help you find memorable activities that engage your class.

If your church does it, they've probably got it. It's been said that tool companies don't sell drills; they sell holes. The same goes for Group. They don't just sell books, curriculum, training, Bibles, software, etc. They're in the business of making you even better at what you do in ministry. They want you to feel joy and fulfillment as you connect people with Jesus. That said, Group does offer a wide range of resources and services for just about every area of church ministry: children's ministry, youth ministry, adult small groups, women's ministry, pastoral ministry, and more.
Publisher: Group Publishing
Pages: 224
Format: Softcover
Church Partner Contact Information