The Divine Authenticity of Scripture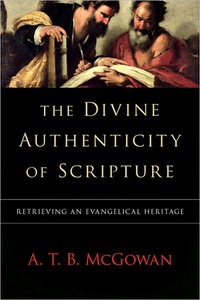 Item Number: 083-082-8791
Manufacturer SKU: 9780830828791
Regular Price:

$25.00

Your Price:

$20.00

(20% savings)
Offers a balanced and refreshing look at the evangelical doctrine of Scripture
Views the doctrine of Scripture within the context of the life of the church
Evangelicals have taken extraordinary care in formulating and articulating a high view of Scripture. And yet the doctrine is not without its inadequacies and its internal critics--both past and present.
Reviewing the evangelical discussion and formulations over the past century and more, particularly in the Reformed tradition in North America, Andrew McGowan is not content with the present state of the question. The way forward is to reach back within the European evangelical tradition, particularly to the work of the Dutch Reformed theologian Herman Bavinck. The prescription is to anchor the doctrine of Scripture in the work of the Spirit, the divine spiration of Scripture. And the contested idea of inerrancy should be replaced with an informed concept of the infallibility or authenticity of Scripture.
The Divine Authenticity of Scripture is not simply a book that argues an academic case for reformulating a thoroughly evangelical doctrine of Scripture. It keeps the pastoral dimensions of the question in view and relates the doctrine of Scripture to the church's confessions and preaching.

Located in Westmont, Illinois, InterVarsity Press has been publishing excellent Christian books for more than 50 years. Our current publishing program is focused on three imprints: 1) IVP Books offers general-interest books in categories like Christian living, discipleship, evangelism, missions, apologetics and cultural critique. 2) IVP Academic offers books designed for research and classroom use in areas such as biblical studies, theology, philosophy, science and psychology. 3) IVP Connect offers study guides, multimedia curriculum and foundational resources for churches and small groups.
Publisher: InterVarsity Press
Author: A.T.B. McGowan
Pages: 240
Format: Paperback
Publication Date: July 2008
Church Partner Contact Information