Disciples Are Made Not Born: Helping Others Grow to Maturity in Christ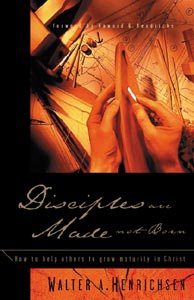 Item Number: 078-143-8834
Manufacturer SKU: 9780781438834
Regular Price:

$16.99

Your Price:

$13.59

(20% savings)
"Make Disciples."
Jesus' command is clear. But what is a disciple? And how are we to "make" them?
Based on decades of experience, this book explains and illustrates the process of disciple-making that Jesus taught and modeled. First published in 1974, its practical, biblical approach has revolutionized the ministry of hundreds of thousands of Christians as they learned how to multiply themselves in the lives of others.
Disciple-making is challenging, to be sure. But as we are faithful to Christ's Great Commission, we'll experience the fulfillment that comes from being faithful to the life mission to which God has called us.

David C. Cook is a nonprofit organization dedicated to publishing and distributing leadership and discipleship resources to help Christians all over the world grow in their faith and pass it on to the next generation. They call this "DiscipleShaping". They were established in 1875 by David Caleb Cook in Chicago, IL. Since that time, they have published numerous bestselling books from The Picture Bible to Crazy Love by Francis Chan, developed over ten lines of Sunday school curriculum, and published many of today's most popular praise and worship songs through their music division, Kingsway.
Publisher: David C. Cook
Author: Walter A. Henrichsen
Pages: 160
Format: Paperback
Church Partner Contact Information