Wooden Mallet Periodical Wall Rack, 2 Pocket - AC19-2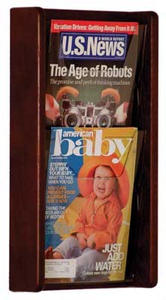 Item Number: 25018
Manufacturer SKU: AC19-2
Attractive periodical racks neatly display and organize various printed materials. You can maximize your display potential in a smaller amount of space with the convenient overlapping design of the rack.
Regular Price:

$60.00

Your Price:

$43.95

(27% savings)
Literature organizers neatly display and organize periodicals, brochures and other printed materials while maximizing your display potential in limited amounts of space. Here are just a few of the features:
Usually ships in 2-5 days
Modern and stylish design with curved solid oak sides
Acrylic overlapping pockets offer a ¾ view of the literature
Each pocket measures 9 1/2" W x 1" D
Pockets each hold up to the standard 8 1/2" x 11" literature size
Overall dimensions: 11" W x 19" H x 3" D
3/4" Solid Oak Frame
Optional removable dividers are available for displaying brochures
Attaching the legs is a quick process that does not require any special tools
All racks include wall mounting hardware
Made in the USA

"Excellence in wood products manufacturing is Wooden Mallet's primary goal. To make this possible, I believe in a family of trained and dedicated employees, top quality materials, and the most modern equipment and facilities. With these tools, we can bring to our customers a consistently superior product, prompt ship times, and a smooth running partnership." - Jim Kreber, Owner For the past 10 years, Wooden Mallet has ranked consistently in the top 100 of the Wood & Wood Products, Wood 100 Annual Report for Solid Wood and Panel Technology.
Weight: 5 lbs
Width: 11"
Height: 19"
Length: 3"
Church Partner Contact Information