Jonti-Craft® Wood Unit Blocks, 86 pieces - 0264JC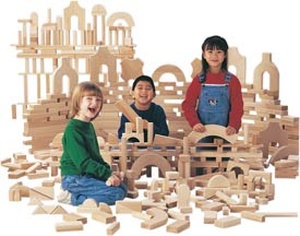 Item Number: 16078
Manufacturer SKU: 0264JC
Kids enjoy hours of creative play with these time-honored classically designed unit blocks.
List Price:

$402.30

Your Price:

$321.95

(20% savings)
These classically designed blocks are created from hardwood, which is stronger than oak, each block is finely sanded smooth to insure it will be splinter-free.
All edges are beveled and corners are safely rounded

Based on the precise unit size of 2 ¾" wide x 1 3/8" thick x 5 ½" long

Set has 86 pieces, which includes 14 shapes

Jonti-Craft, the leading provider of quality furniture for the early learning market, offers a wide selection of creatively designed products. From our KYDZSafe® edges to our KYDZTuff® finish, you'll find that all Jonti-Craft products are packed with features that make them safe, functional and affordable. Every single corner and edge of our products are rounded for safety. And, since we are the only early learning furniture manufacturer to use both birch and Rainbow Accents® materials, your furniture options are endless. To top it off, Jonti-Craft products are built using the strongest construction techniques available to ensure that your furniture purchase will last a lifetime!
Weight: 43 lbs (for entire set)
Width: 2 3/4"
Height: 1 3/8"
Length: 5 1/2"
Church Partner Contact Information