Swanson Palm Ash - Serves 500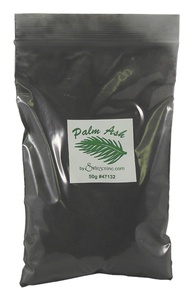 Item Number: SWA-47132

Swanson Palm Ash - Serves 500
Regular Price:

$19.95

Your Price:

$15.95

(20% savings)
100% pure Palm Ash for Ash Wednesday services or anytime we reflect on the awesome meaning of the Lenten season.
This palm ash serves 500 people and is zip lock poly-bagged and labeled. 50 grams
Our apologies, but this item is non-returnable.

The mission statement of Swanson Christian Products is to develop, manufacture, import, market and export Christian products internationally which help point people to God in their daily lives. Our efforts are supported through ministry partnerships and evangelistic opportunities. They adhere to Christian principles with their customers and employees, and operate under biblical financial statements. They strive to seek God in their personal and business decisions.
Church Partner Contact Information