Black Tabletop Prize Wheel, 18 Slot - 63008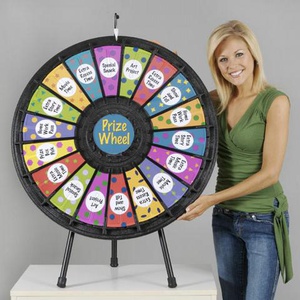 Item Number: 63008

The 18-Slot Black Tabletop Clicker Prize Wheel is fun to spin and win!
Regular Price:

$382.25

Your Price:

$280.95

(27% savings)
The 18-Slot Tabletop Black Clicker is also lightweight features 18 customizable prize slots and center plate for logo or text. The clicking sound builds excitement as it spins! Assembly is easy with a durable tripod style stand made of high quality powder-coated steel. All of our black wheels are made with durable PETG plastic. The clicker itself is made of virtually unbreakable nylon plastic, able to withstand thousands of spins.

The Clear Clicker Floor Model Features:
Durable PETG plastic
A pointer that "clicks" between each slot - 18 clicks per rotation
18 customizable prize slots and a center plate for logo or text
Templates in Microsoft Word and Adobe Illustrator
Easy assembly with tripod style stand

The easy-to-assemble Prize Wheels are great tools for any business. Applications for both product lines are virtually unlimited! The Prize Wheel is manufactured by Thermopro using high-tech thermoforming equipment. ThermoPro, Inc. is a privately held company based in metropolitan Atlanta. Founded in 1976, the company was transformed from a manufacturer of storage containers to a leading supplier of display products through catalog sales.
Weight: 11.5 lbs
Width: 31"
Height: 41"
Length: 16 1/2"
Church Partner Contact Information