Imperial Wood Frame Sanctuary Church Chair - No. 90
Needing a larger number of chairs? Call for a volume quote!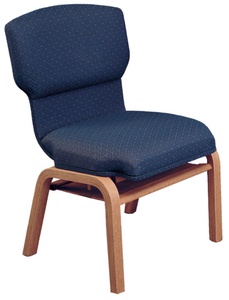 Item Number: 72327
Manufacturer SKU: 90
Choose luxury AND economy with these well-made wood frame church pew chairs. The bent frame design is contemporary and attractive!
List Price:

$304.00

Your Price:

$190.95

(37% savings)
Choose luxury AND economy with these well-made wood frame church pew chairs. Their bent framed design provides a contemporary design which blends as well with new and older facilities while providing maximum flexibility and comfort! Features include:
Full 3" thick seat cushion
1 1/2" back cushion with built in lumbar support
Contemporary cut-away design
Full 21" width
33" domed back
Select from 12 wood stains and 48 standard fabrics
Underseat book storage is standard
Ganging is standard
Choose with or without sliding wood kneeler (see image)
Designed to stack to 5 chairs high
Other options include card pocket, backside book pouch, card pocket with pencil storage, and wood card holder with pencil. Call for details and pricing.

Since 1960, Imperial Woodworks, Inc. has been a family-run business making custom wooden church furniture. With second and third generations now in place, Imperial is the nation's largest manufacturer that produces solely church furniture. Our 120,000 sq. ft. factory allows us to produce everything from church pews to communion rails to clergy chairs. Our company has shown continued growth without losing sight of our goal to make customer service the number one priority. To meet the challenge of the diverse products used for worship today, Imperial offers traditional products such as solid wood church pews, communion rails, walk-in pulpits, kneelers, pew screens and modesty rails, custom chancel furniture designs, and solid oak chairs to beautifully coordinate all the church furnishings. In addition, Imperial provides more modern products such as metal and wood stacking chairs, plexiglass and acrylic pulpits and communion tables, and combination and defined-back pew seating options, along with more open, rounded designs of pulpits, tables, pulpit chairs and furniture, and pew ends to create a more contemporary feel to the worship setting.
Width: 21"
Height: 33"
Length: 23.5" Deep
Church Partner Contact Information