The Humongous Book of Games for Children's Ministry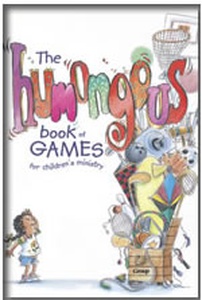 Item Number: 076-442-3550
Manufacturer SKU: 978-0-7644-2355-0
Regular Price:

$29.99

Your Price:

$23.99

(20% savings)
Have big-time fun making key Bible points! In this whopping collection, you'll find just the right game for every lesson or ministry need. 220 games to super-size the Fun in Your Ministry! Always have a great big-fun game at your fingertips for any area of children's ministry, daycare or after-school programming! From creative children's workers comes this tried-and-true colossal collection!

Why just tell kids about David and Goliath and have them color a handout when you could play... Human Slingshot where kids link arms to make "slings" and launch paper "rocks" at a nine-foot high target (and then have a great discussion about the story)?
Inclusive games -- no one is left out, there are no losers, all players win -- learning friendship, teamwork, and the Bible point.
Games are arranged by three age groups: preschool, lower elementary, and upper elementary.
Preschool games for Esther are "Who Will Lead?" and "The King's Sceptor", and for the topic, Following Jesus are "Herding the Sheep", "Come Along" and "Stop, Drop, and Follow".
Lower elementary groups can play "Unseen Presence" or "The River Bend" for the topic, Faith, or they might play "Worry Whirl" for the topic, School.
Upper elementary ages might play "Outsmart the Crushers" for the topic, Joy, and "True-False Tag" to reinforce a Truthfulness lesson.
Preparation is simple, with few, easy-to-find game props (Bible, crayons, paper plates or nothing at all). Imagination is the primary equipment!
Game plan includes follow-up discussion, questions for thought, or suggestion for Bible reading.
Every game features all-out wild fun, but also makes a key Bible point.
Energy level index and Scripture index for all games!

If your church does it, they've probably got it. It's been said that tool companies don't sell drills; they sell holes. The same goes for Group. They don't just sell books, curriculum, training, Bibles, software, etc. They're in the business of making you even better at what you do in ministry. They want you to feel joy and fulfillment as you connect people with Jesus. That said, Group does offer a wide range of resources and services for just about every area of church ministry: children's ministry, youth ministry, adult small groups, women's ministry, pastoral ministry, and more.
Publisher: Group Publishing
This item can be returned to ChurchPartner as long as it has not been used, corners are not tattered or curled and is in its original packaging. All returns must be shipped back within 30 days of purchase for a full refund or exchange. All damaged product must be reported within 7 days of receipt. You are responsible for all shipping costs back to our warehouse unless the product was damaged in shipping. Please call us at 800-572-0550 and receive a Return Authorization number to ensure proper credit for the returned item. All credits will be distributed in the same manner as it was originally charged (i.e. credit card credits will be made to the same credit card used for purchase). All credits, with the exception of damaged items, will be for the product cost only, and will not include original shipping charges. Items must be received in resalable condition for credits to be issued. Items damaged during shipping back to our warehouse is the responsibility of the sender and, therefore, you are required to contact the shipping company and settle any disputes. Item returned without a Return Authorization number can be delayed in processing and credits might take 30 days or longer to process.
Church Partner Contact Information