My Bible Coloring Book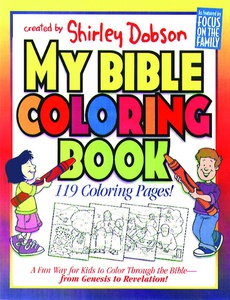 Item Number: 083-072-0685
Manufacturer SKU: 978-08307-20682
Regular Price:

$7.99

Your Price:

$6.79

(15% savings)

Sale Price: $5.00

(37% savings)
With 119 coloring pictures, My Bible Coloring Book takes the coloring book to a new level.
It teaches children essential Bible stories as they color!
This coloring book covers all the main stories of the Bible, and each picture has a scripture reference. My Bible Coloring Book also contains a letter from Shirley Dobson describing the joy of taking children through the Bible, helping them to discover God's Word.
Publisher: Gospel Light
ISBN: 978-0-8307-2068-2
Author: Shirley Dobson
Pages: 119
Format: Paperback
Publication Date: September 1997
Size: 11" x 8.5"
Our apologies, but this item is non-returnable.

Henrietta C. Mears was one of the great Bible teachers of the 20th century. While Christian Education Director at First Presbyterian Church of Hollywood, she built one of the largest Sunday Schools in the world and wrote curriculum that was in such high demand that to publish it she founded Gospel Light in 1933. Such notable Christian leaders as Richard C. Halverson, Luis Evans, Jr. and Bill Bright were among her students. Miss Mears developed "cradle-to-grave" age-appropriate curriculum, published a new style of Vacation Bible School, and lent her support to distributing Gospel materials around the world. Gospel Light has expanded into a multi-faceted publisher of fun and creative Sunday School curriculum, exciting Vacation Bible School programs and inspiring biblical books (Regal) . The mission of Gospel Light is still the same today as it was in 1933: "To know Christ and to make Him known."
Church Partner Contact Information