The Easter Stranger Arch Book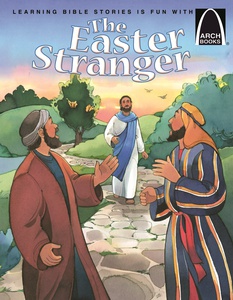 Item Number: 59-2221
Manufacturer SKU: 592221
The Easter Stranger Arch Book for children
Regular Price:

$2.99

Your Price:

$2.50

(16% savings)
Arch Books are a favorite for more than four decades, and captivate children with colorful pictures and creative poems. Each book presents a complete Bible story in a fun-to-read way and are easy for children to understand and remember.
This Arch Book tells the story of Jesus on the road to Emmaus from Luke 24:1-35
"Then their eyes were opened wide;
The Stranger's face began to shine!
The Father's glory from Him shone
And Jesus' presence now was known."

Concordia Publishing House, where words have been our business and faith our inspiration for more than 139 years. We are the publisher of The Lutheran Church—Missouri Synod, and we are dedicated to spreading the Gospel message of Jesus Christ throughout the world.
Publisher: Concordia Publishing House
ISBN: 978-0-7586-1610-4
Church Partner Contact Information